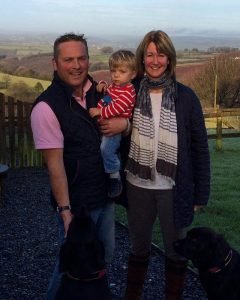 Jules Hudson "Escapes to the Country" at Brechfa Forest Barns
TV presenter Jules Hudson had his very own "Escape To The Country" this weekend when he booked into Bay Tree Barn with his family and 2 dogs.
Back in the summer, whilst filming us for a new show "Escape To The Country – Revisited" Jules was impressed by our cottages. He chose to book one of them for a family break to coincide with wife Tania's birthday.
How we met
We first met Jules back in 2008 when we featured on the BBC show. We had this crazy idea about moving to rural Wales to set up a dog friendly holiday cottage business! Jules showed us a number of lovely properties in the area but nothing that compared with our current home which we went on to buy 6 months after filming.
When we first moved to here Jules lived just half an hour away but relocated to Hereford in more recent years and so we haven't seen so much of one another.
Beer & the BBQ Hut!
Therefore we had much catching up to do and so yesterday was spent leisurely walking the dogs at Abergorlech in Brechfa Forest, quenching our thirst in The Black Lion pub and finally enjoying the evening in The BBQ Hut.
Jules & Tania have eaten my home-cooked meals on a number of occasions but last night it was Jason's turn to be chef. We treated them to baked camembert, rib-eye steak with jacket potatoes and boozy pineapple packages on the BBQ. They were rather taken with "The Fire House" and are now considering a similar addition at their own home!
The labradors and beagles got along just fine and 2 year old Jack took a particular liking to Woody!
A great time was had by all and there were a few sore heads this morning but nothing that a few pints of tea and a monster cooked breakfast couldn't sort out!
It was sad to say goodbye but plans are afoot for another get together in the new year.
Thanks for the lovely endorsement Jules:
"As ever, Nikki & Jason gave us the perfect "Escape to the Country" at Brechfa Forest Barns. It's been a wonderful thing to see all their dreams and hard work pay off in creating a fantastic business, and beautiful home. Cheers guys! Jules x"